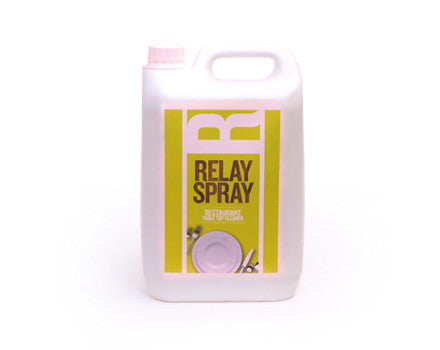 Relay Spray - 5L Bulk pack
£11.55
Due to popular demand we now stock Relay spray in a 5 litre bulk pack, you can now simply refill your bottles at your convenience.
This is premixed so you do not have to dilute, simply refill your empty trigger bottles.
Unlike other Cleaners in the Market, Relay Spray is a gentle formula, which is safer and more pleasant for both the User and the Customer. It comes ready to use so there are no chemicals to mix, helping with speeding up Service and Stock control.  Relay has been developed to deal with the issues of table surfaces being damaged by Sanitising solutions eating into the varnishes and laminates. This is why Restaurants complain of the Table tops still feeling sticky even after cleaning. Resulting in  the costly expense of replacing or repairing the tables. Relay spray will help to keep Table tops in pristine condition and leaves no sticky residue.
5l of relay spray is enough to clean approx. 1500 tables!
All prices exclude VAT which will be added at 20%

Price is volume based, and we would welcome the opportunity of quoting on your requirements. For larger enquiries contact our sales team on 01953 499919 or email sales@relayspray.com